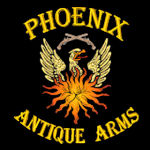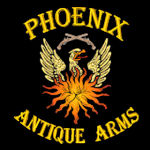 Cased pistols from Phoenix Antique Arms including duelling, pepperbox, percussion, pinfire, Navy, Dragoon, flintlock
PHOENIX ANTIQUE ARMS

We accept

Rifles & long guns - Revolvers & pistols - Cased pistols
Flintlock & percussion pistols - Derringers, pocket & travelling pistols - Armour, Accessories & Books





CASED PISTOLS
The following items are a selection of the type and quality stock we keep. Please contact us by phone or by email sales@oldguns.co.uk for more information about any item below or for specific items you are looking for. Click on the picture to see an enlargement, use the browser BACK button to return to this page. Click on a page number at the bottom to move to another page.
---
A Model 1½ .32 rimfire Smith and Wesson revolver. The gun retains 85% original nickel plating with some flaking, mainly to the cylinder. It has smooth grips with no damage. The gun is contained in an original mahogany pistol case along with an empty cartridge box. Good working order.
£640
Stock No. 4580

---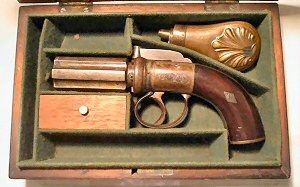 A cased 120 bore six shot pepperbox revolver by Boston of Wakefield. The gun is un-marked but with original trade label to lid of case. The gun retains almost all original case hardening colours and varnish to grips. It is contained in a good mahogany box which has a small old split to the lid. The powder flask has a damaged top. Fluted barrel group 3in. in length and overall 7½in. Very good working order and condition.
£2100
Stock No. 4585

---
A cased six shot 60 bore percussion pepperbox revolver by Lang. The gun is London prooved. It has a 4in. fluted barrel group and is 8¼in. overall. The barrel group is to a dark patina and the gun has a German silver engraved frame with safety to left hand side of action. It has oiled grips in good condition. The gun is contained in a very good original oak case which, unusually is in the American open flat style and is complete with flask and ball mould. Very good working order and condition.
£2425
Stock No. 4584

---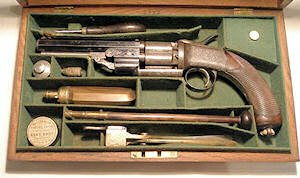 A cased 54 bore Lang percussion revolver with 5½in. octagonal barrel, Serial No. 2792 The gun retains much original colour and fading case hardening colours to frame, and has a very good bore. It has very nice chequered grips with a silver escutcheon and an old collector's tag to butt. It is contained in it's original case with many accessories, and the case is numbered in India ink to the gun. The brass lid escutcheon is missing.
£3880 SOLD
Stock No. 4479

---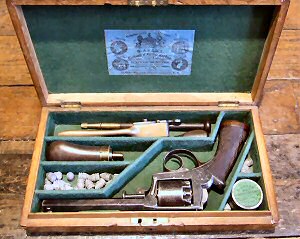 A good five-shot Belgian made 54-bore Adams revolver, 6.25inch barrel, border and scroll engraved frame marked ADAM'S PATENT No 10382, chequred wood grip, contained in its green baize lined oak case with full compliment of accessories.
WAS £3,850 NOW £2750
Stock Number 2666

---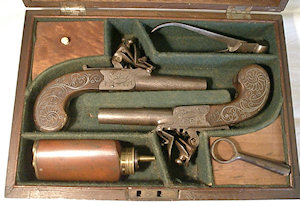 A cased pair of silver inlaid flintlock pistols, hall marked for Birmingham 1801. The silver escutcheon on each one reads 'The 1st. company of Clackmannonshire Volunteers present this to their commanding officer Wm. Geddes Esq. in testimony of their esteem 1802' The pistols are profusely inlaid with silver wire and have engraved actions and have hall marked silver butt caps. The pistols are contained in a green baize lined case with trade label of 'Gardener, Newcastle' to the lid. Also contains mould, flask and barrel key.
£3330 SOLD
Stock No. 4118

---
A fine, cased, 120-bore five shot percussion revolver by Deane & Son, 4.26inch sighted octagonal barrel engraved DEANE & SON, LONDON BRIDGE on the top flat, the frame engraved DEANE HARDING PATENT NO 7293 LB, chequered wood grips, contained in its green baize lined oak case, the lid with trade label for Deane and Son, complete with full set of commensurate accessories. This gun retains 94% of its original finish with an excellent bore.
£3,950
WAS £3,950 NOW £3,200
Stock Number 2902

---
A very good, cased, 120 bore Deane Harding five-shot percussion revolver, 4.5inch sighted octagonal barrel engraved "DEANE & SON, LONDON BRIDGE", border engraved frame marked "DEANE-HARDING PATENT No.5977L", retaining 90% of its original finish, contained in its original box with commensurate accessories, the lid with maker's trade label.
£2,950
Stock Number 2677

---
A good cased 80-bore Fourth Model Tranter percussion revolver, by Parker, Field & Sons, 233 High Holborn, retaining 80% of its original finish, scroll engraved blued frame, complete with all appropriate accessories in fine condition. Serial number 16279 T.
£3,950
WAS £3,950 NOW £3,200
Stock Number 2570.

---

Rifles & long guns - Revolvers & pistols - Cased pistols
Flintlock & percussion pistols - Derringers, pocket & travelling pistols - Armour, Accessories & Books
---
PHOENIX ANTIQUE ARMS,
17 Darracott Close, Deal, Kent CT14 9PU
Partners Peter B. Reason & Susan D. Reason
Please contact Peter or Susan on 01304 372651 or e-mail us at: sales@oldguns.co.uk Web: www.oldguns.co.uk & www.antique-arms-and-guns.co.uk